Central

High School




Class Of 1969
ANNOUNCEMENTS
2/28 DAY FLORIDA CELEBRATION (February 28, 2023) Now that COVID is receding, the Florida contingent of the 228 is planning its 2023 Celebration of 2/28 DAY! With so many 228 classmates living in or visiting Florida, we decided that there would be no better way to celebrate 2/28 DAY than to gather together and join in cocktails and dinner on February 28, 2023. Our celebration will be in Palm Beach County with the exact venue being determined by the number of classmates likely to attend. If possible, please respond to either Arthur Frankel (Arthur.frankel.md@gmail.com) or Bruce Zimet (baz@bruceazimetlaw.com) by December 20, 2022 to let us know whether you will be able to join your classmates. February 28, 2023 is a Tuesday, so anyone wanting to get out of the cold and take a long weekend in Florida should know that we have a seat at the table waiting for you.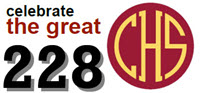 Dear fellow members of the 228,
Wow! What a great Reunion! If you attended, thanks for coming. If you were unable to attend, we missed you!
REUNION OVERVIEW
it was a great Reunion weekend with record-setting attendance. At our Saturday evening gala at the Loews Hotel in Philadelphia, we celebrated with over 175 classmates and 35 guests. The evening kicked-off with a spectacular cocktail hour on the 33rdfloor during which the Central Jazz Ensemble played. This was followed by a sumptuous dinner in the main ballroom and a full program highlighted by speeches from classmates Joel Polis of Cheers and movie fame and Jim Bagian our own 228 real-life astronaut as well as from Steve Kaplan describing why Central is so special to him and Jay Horrow about the amazing achievement 228 has already accomplished through our gift fund.
Some 15-20 classmates attended a pre-Reunion get together at Fado's Irish Pub on Thursday evening. On Friday we had 60 classmates at school to audit classes and go on tours. Over 100 classmates and guests attended the cocktail party at the Hard Rock Café on Friday night.
REUNION PHOTOS
We have some great photos to document our experience. The links for each are below:
(1) FRIDAY NIGHT HARD ROCK CAFÉ-scroll down past white space below
https://photos.google.com/share/AF1QipNDHy7Y_8DNTXMq1yt-GMoFPJZy2ylwUz-YYux_49QU9kpPrq4qBGCKvz_xKY30fA?key=RWh5cy1pNG1XQkYyQ042Q3Z3cnIydDVkZWFtMzBB
(2) SATURDAY NIGHT LOEWS HOTEL
This link to a "Social Sized" set of photos.
https://www.dropbox.com/sh/llnr9u5ywpldmv1/AACH--lD0vXzWg6lifTDvwNha?dl=0
If you download all the photos in this link, you will use about 200 MB of disk space. This is the best version to download, unless you plan on printing poster sized version of these images.
The resolution of these photos is perfect for Facebook, Email, and printing up to 8 x 10 prints.
And for easy online viewing, you can use this SmugMug Link.
https://photostephen.smugmug.com/Events/Central-High-School-228-Reunion-50/
You can view and share photos on Social Media (Facebook, Twitter, etc.) for no charge. This is the easiest way to view the photos online, without having to download anything.
With the SmugMug link, you do have the option to purchase prints and merchandise such as photo mugs. Your choice, you can download the images via one of the other two links or you can make prints via this link. Use the choice which is the easiest and most cost efficient for you.
(3) GLENN KAPLAN'S VIDEO SHOW
Hats off to Glenn for producing an outstanding video show for Saturday evening. Great job. Thanks, Glenn!
https://drive.google.com/file/d/1zybedvypaygYCj9b3pPaaY3t43SZwU3H/view
THE 228 CLASS GIFT FUND - GIVING TUESDAY
The 228 Class Gift Fund has already made a real difference in the lives of Central students.
Thanks to the outstanding leadership of Jay Horrow, Chairman, and Roy Goldman, Secretary, of the 228 Class Gift Fund, we are closing in (in pledges) on achieving our goal of raising $228k for school. At the time of the Reunion we were only some $22k away from this goal. We have already donated over $100k to Central in the form of ad hoc projects like air conditioning 70 classrooms, providing professional performances of Shakespeare twice, purchasing a state-of-the-art video camera and drone.
From the start our goal has been twofold: (1) to raise $228k AND (2) to have a very high rate of class participation fitting the enduring spirit of the 228.
If you have participated in the GF, THANK YOU! If you have not yet joined in, please consider doing so at any level. ALL DONATIONS ARE WELCOME.
PLEASE NOTE THAT A DONATION TO THE 228 CGF IS THE SAME AS ONE TO THE AACHS, AS THE VAST MAJORITY OF OUR FUNDS AT THIS TIME ARE GOING TO SUPPORT BUILDING THE NEW $40M PERFORMING ARTS CENTER .
Here's how to donate:
If you wish to donate by check, make payable to The Philadelphia Foundation and indicate "228 Class Gift Fund" in the memo line. This is important!
Send checks to: P.O. Box 826728, Philadelphia, PA 19182-6728
TO DONATE ONLINE:
Point your browser to www.philafound.org.
Click "GIVE NOW" in the upper right of the home page.
Select "228 Class Gift Fund" from the scroll down menu titled "Type Name of Fund or Cause". Then enter your gift amount in the box just to the right.
Enter your credit card information.
Recognition information: if you select "remain anonymous" we will be unable to credit you with the donation.
Through 8. We recommend leaving these items as they are.
Scroll down the page and click "SUBMIT GIFT".
-------------------------------------------------------------------------------------------------------------------
REPEAT DONORS: Hopefully, this new page will auto-populate your User Name and Password. If not, enter that information if you have it, and click "Logon". (If you don't have your username, you can go back to the home page window and click "GIVE NOW" in which case skip the next line and continue with "On the GIVE NOW page" below.)
Under "Quick Links" (the box on the right), click the 2nd entry "Make a Gift to Your Fund"
On the "GIVE NOW" page, select "228 Class Gift Fund" from the scroll down menu titled "Type Name of Fund or Cause"
Click in the "Gift Amount" box and enter the amount you are donating at this session.
Scroll down and enter your credit card information and additional items as appropriate.
To visit or join our Class Facebook Group, click on the link below:
https://www.facebook.com/groups/CentralHighPhilly228

Your Reunion Planning Committee,